EDIT MAIN
Looking for the at-home learning hub? Click HERE.
---
SISD Summer Camps & Programs | K-12 & 2020 Graduates
SISD is excited to announce summer camp and program opportunities for students entering Kindergarten through 12th grade and 2020 graduates!
*The decision to hold camps online or in-person will occur in accordance with CDC, state, and local guidelines and will be determined as we approach the camp start date
---
MAP testing: by appointment in June
Available by parent request or teacher recommendation to help us determine if and where your child will benefit from additional summer support. If you have questions, please contact jrush@snyderisd.net.
---
Kindergarten - 8th Grade Camps & Programs
Registration is closed for summer camps and programs at SISD. Students entering Kindergarten through 8th grades have three virtual camp opportunities to keep kids engaged and minds sharp through the summer!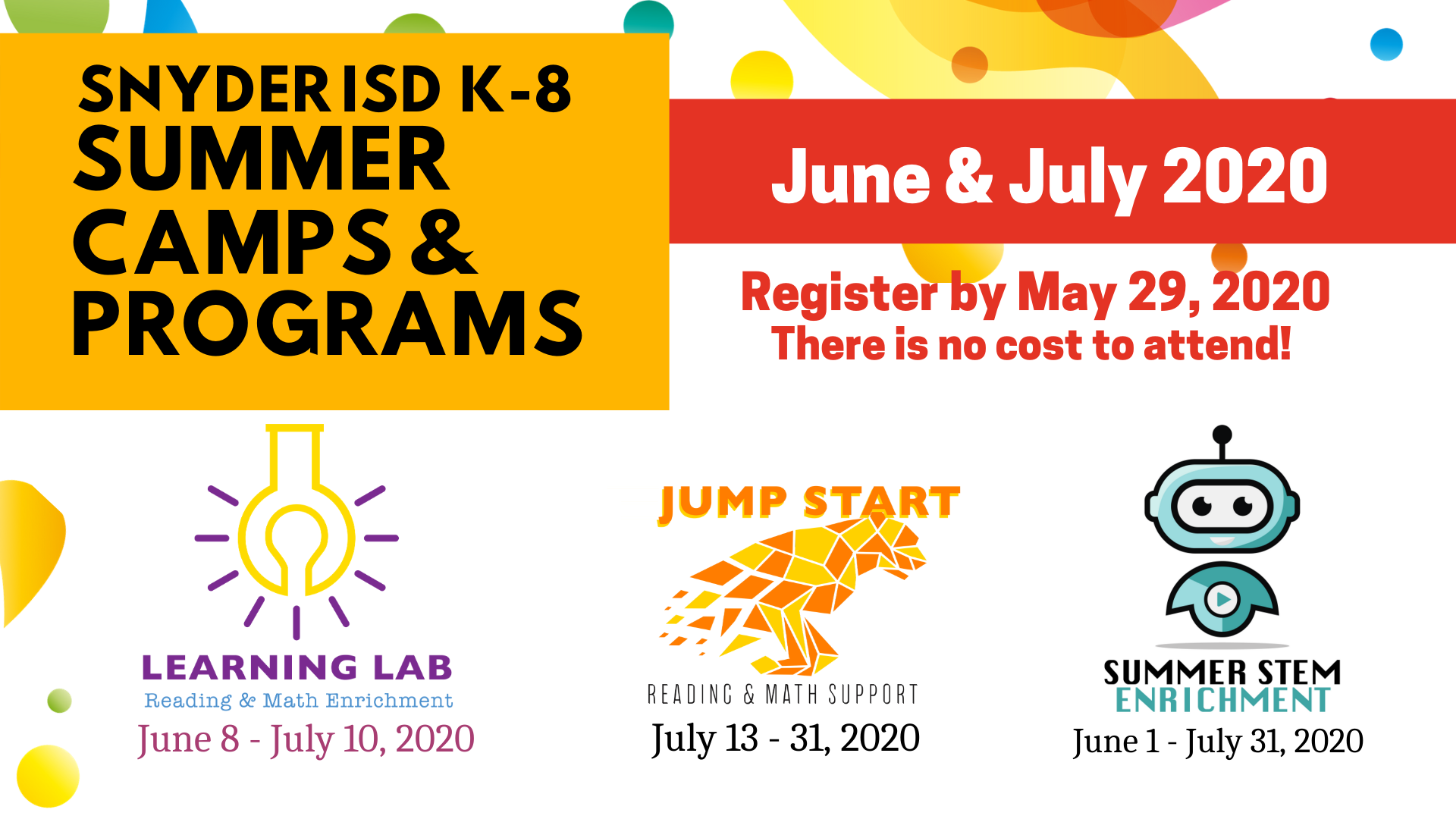 Summer STEM Camp | June 1 - July 31
Online* weekly STEM challenges
Community STREAM stops
Explore careers in energy, construction, computers, teaching, healthcare, plant science, law enforcement, & automotive
Learning Lab | June 8 - July 10
Online* learning platform
Interactive math & book clubs
Weekly lessons & activities to review and prepare for next year
Teacher Hotline: SISD teacher support through Zoom
Virtual tutoring
Jump Start | July 13-31
Half-day camp (face-to-face if possible)*
Targeted instruction based on students needs
Teacher-led small groups / intensive tutoring
Focus on next grade preparation
Camps are free and registration is open through May 29, 2020!
---
9th - 12th Grade and 2020 Graduate Camps & Programs
Don't miss this opportunity! Snyder and Roscoe High School students, take advantage of these FREE, virtual programs this summer! Register through June 20, 2020.

Summer Cert | June 1 - August 31, 2020
Juniors, seniors, & 2020 Grads through the Summer Cert program you can earn an industry certification in just EIGHT weeks in the following areas:
Ag - Commercial Pesticide Applicator
OSHA
Real Estate Sales Agent
Patient Care Technician
Google Certified Cloud Professional G Suite
Microsoft Office Specialist
ServeSafe Manager
Adobe Certified Associate Creative
Entrepreneurship & Small Business
Medical Coding & Billing Specialist
P-Tech Prep | 9th Grade: July 6-10, 10th - 12th Grade July 13-17
Dual-credit and P-Tech freshman - seniors, ONE WEEK will get you set for next year's courses! The P-Tech Bridge Camp will provide:
TSI test prep
orientation to college software programs used in dual-credit classes
career opportunity exploration
experience with a higher education environment
Camps are free and
registration is open
through June 20, 2020!
---
Stay connected this summer! Through July 10th, all Snyder ISD Summer Camps and Programs will be held virtually. If you do not have a strong internet connection, Snyder ISD has installed hotspots that you can use to connect to the programs.
Intermediate school front parking lot 3600 El Paso
DAEP campus parking lot - 3600 Apple
Snyder ISD Bus Barn-1600 Scott Ave
Snyder ISD Old Bus Barn -30th and Ave M

---
Registration for K-8 camps has closed
9-12 Registration is open through June 20, 2020