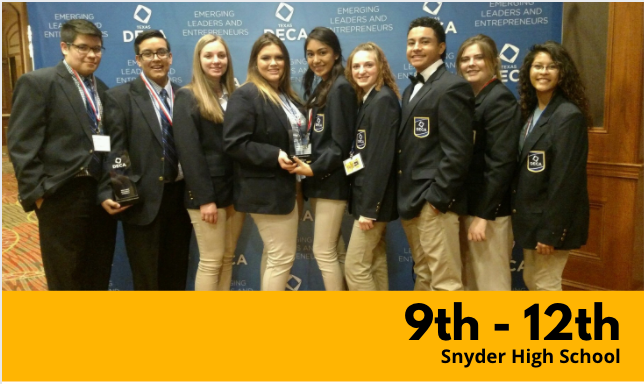 SNYDER HIGH SCHOOL | Equipping Students for a Successful Future
All Snyder High School students will choose an endorsement to earn. This will structure the student's courses to meet graduation requirements based on a related area or skill set.
STEM (Science, Technology, Engineering, and Math)

Business and Industry

Public Service

Arts & Humanities

Multi-Disciplinary Studies
Once a student has chosen an endorsement, students may choose to enroll in the P-TECH Program to obtain an associate degree and/or industry-based certification prior to high school graduation.
Students enjoy an array of academic options above and beyond the basics. Advanced courses are available through dual-credit college courses and honors courses in English, math, social studies, and science. Students may pursue their interests and try something new through a wide range of electives.
Athletics at Snyder High School is about more than a score. We emphasize moral character, perseverance, teamwork, and commitment. Tigers may compete in football, volleyball, tennis, cross country, basketball, softball, baseball, golf, soccer, track, and powerlifting.
Award-winning programs in theatre, choir, art, and band provide an enriching and well-rounded education.
Agriculture, Food & Natural Resources | Principles of Ag, Food & Natural Resources, Professional Standards in Agribusiness, Agribusiness Marketing & Management, Livestock Production, Small Animal Management, Equine Science, Floral Design, Horticulture Science, Advanced Plant & Soil Science, Food Technology & Safety, Food Processing, Ag Mechanics and Metal Technology, Energy and Natural Resources, Oil & Gas Production, Practicum in Agriculture, and Food & Natural Resources
Architecture | Principles of Architecture, Architectural Design, and Practicum in Architectural Design
Arts, A/V Technology & Communications | Principles of Arts, A/V Technology, & Communications and A/V Production with Lab
Business and Marketing | Principles of Business, Marketing & Finance, Business Information Management, Virtual Business, Human Resources Management, Advertising, Social Media Marketing, Entrepreneurship, and Career Preparation
Construction | Principles of Construction, Construction Technology, and Practicum in Construction
Culinary Arts | Principles of Hospitality & Tourism, Introduction to Culinary Arts, Culinary Arts, Advanced Culinary Arts, Practicum in Culinary Arts, CTED Culinary Arts, and CTED Hospitality Services
Education & Training | Principles of Education & Training, Human Growth & Development, Instructional Practices in Education & Training, and Practicum in Education & Training
Fine Arts | Art I, Photography, Sculpture, Graphic Design, Theatre, Theatre Production, Technical Theatre, Choir, Music Appreciation, Jazz Band, and Band
Health Sciences | Principles of Health Science, Medical Terminology, Anatomy & Physiology, Health Science & Theory, and Practicum in Health Science
Human Services | Principles of Human Services, Family & Community Services, Child Development, Counseling & Mental Health, Child Guidance, and Interpersonal Studies
Information Technology | Principles of Information Technology, Networking, Web Technologies, and Computer Technician
Journalism | Newspaper and Yearbook
Languages | Spanish I-IV and Computer Science
Law, Public Safety, Corrections & Security | Principles of Law, Public Safety, Correction and Security; Criminal Investigation; and Forensic Science
Manufacturing | Principles of Manufacturing, Welding, and Practicum in Manufacturing
Renewable Energy | Principles of Applied Engineering, Engineering & Natural Resources Technology; Scientific Research & Design; Principles of Technology; and Engineering Science
Speech | Professional Communication, Oral Interpretation, and Debate
Sports Medicine / Health | Health, Advanced Health, and Sports Medicine I - III
Transportation, Distribution, and Logistics | Principles of Transportation Systems, Automotive Basics, and Automotive Technology I & II
Snyder High School
3801 Austin Ave., Snyder, TX 79549
325-574-8800
questions@snyderisd.net