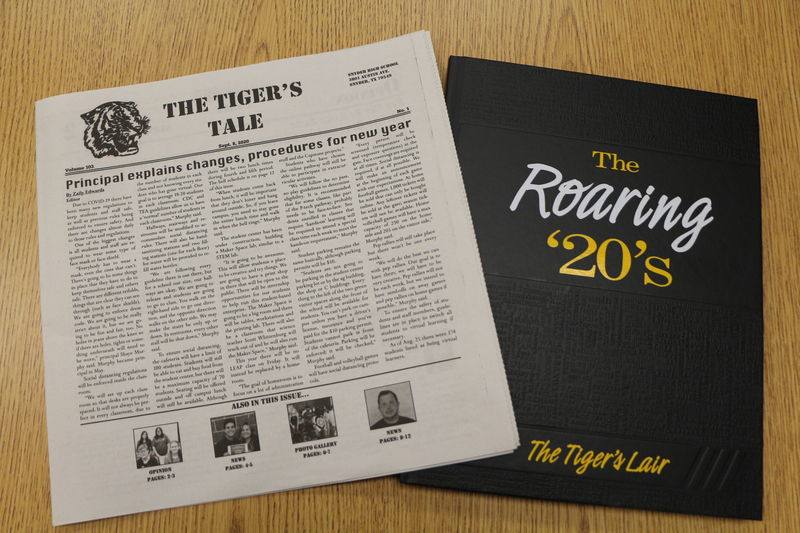 Diane Arnold
SHS Student Publications Adviser/Journalism Teacher
UIL Academics Coordinator
I am blessed. I enjoy what I do - I enjoy the students I work with - and I think what we do is very important to high school students: reporting on topics that are important to our students and preserving their bit of history at SHS. My students WANT to be on the newspaper staff or yearbook staff, or they want to be the photographers that document what happens daily at SHS. They find out in their first-year class that yearbook or newspaper are not blow-off classes and they want to be the best they can be at what they do.
UIL Journalism Events
There are five journalism events in which we compete in UIL (University Interscholastic League Press Conference). Those events are news writing, feature writing, editorial writing, headline writing and copy editing. Nine of the last 15 years, my journalism students have won the district championship.
Almost every year that I've been at Snyder High School, my students have advanced to regional competition. I've had students advance to the state level, three of them placing in the top six at state in four different years. In 1987, two of my students qualified for headline writing at state. In 1995 one student qualified for state feature writing and placed third. In 2006, one student qualified for editorial writing and in 2009, one student won fifth in feature writing at state. In 2011, two students competed at state in headline writing. One won eighth place and the other won ninth. In 2014, one of my students won fourth place in state in feature writing. And for the first time, one of my students won first place in headline writing at the state level in 2015! Competing at state is just pretty cool, but placing at state is even cooler! Two years ago, one of my students was alternate to state in news writing. She decided she wanted to return to state the next year in one of the top three contestant spots and she did, in headline writing. She didn't place at state, and we hoped that she'd have one more chance this year, but COVID19 took that away from her as well as other UIL students. But she's decided that she wants to go into journalism, which makes me very proud!
The biggest thrill for my students, I think, is winning the district trophy. Regional and state competitions are the icing on the cake!
Journalism/Professional Memberships
The Tiger's Tale newspaper and Tiger's Lair yearbook are members of the Interscholastic League Press Conference (ILPC), the journalism branch of UIL. I am a member of the Texas Association of Journalism Educators, the Journalism Education Association, and a member of the Texas Classroom Teachers Association (TCTA).
CONTACT INFORMATION: darnold@snyderisd.net/325-574-8835/Fax 325-573-9500; Snyder High School, 3801 Austin Ave., Snyder, TX 79549
CONTACT INFORMATION
325-574-8835
325-573-9500 FAX
Snyder High School
3801 Austin Ave.
Snyder, TX 79549