Thank you for your interest in joining Snyder Independent School District. The mission of SISD is to empower everyone to pursue excellence every day. Snyder ISD serves approximately 2,500 students, employs almost 400 staff members, and is located in Snyder, Texas.
Snyder is a friendly town located in the middle of everything -- approximately 90 miles from Lubbock, Abilene, and Midland and about 3 hours from the DFW metroplex.
From a dual-language program for primary school students to the P-TECH High School, SISD is proud to offer many opportunities for both students and educators.

13.5 : 1 Teacher-to-student ratio

Financially stable district: Healthy fund balance 4x what is required and a Superior First Rating with the TEA

On-site professional development

Classroom grant opportunities via local foundation

New teacher mentors
Inspire Students through Enrichment
Campus STEM Labs

PTECH High School offers industry certifications, dual credit college classes, and internships.

Dual Language Program

Variety of arts and sports
Interactive screens in all classrooms

1:1 Chromebooks/Laptops for all students

ZSpaces - 3D/VR Experience

Mobile VR kit: Google cardboard, Google Expedition.

Co-spaces edu enabling students to design a VR environment

Teacher:Parent communication app

Makerspaces and District STEM Lab
Benefits and Compensation
Salaries above state base

FREE Pre-K for staff kids

Hybrid calender: 175 teaching duty days

Stipends in tested subject areas - Math, Science, English/Language Arts

Stipends for bilingual and special education

Performance-based incentives in STAAR-tested and CTE areas
Learn more about...

Residents of Snyder enjoy...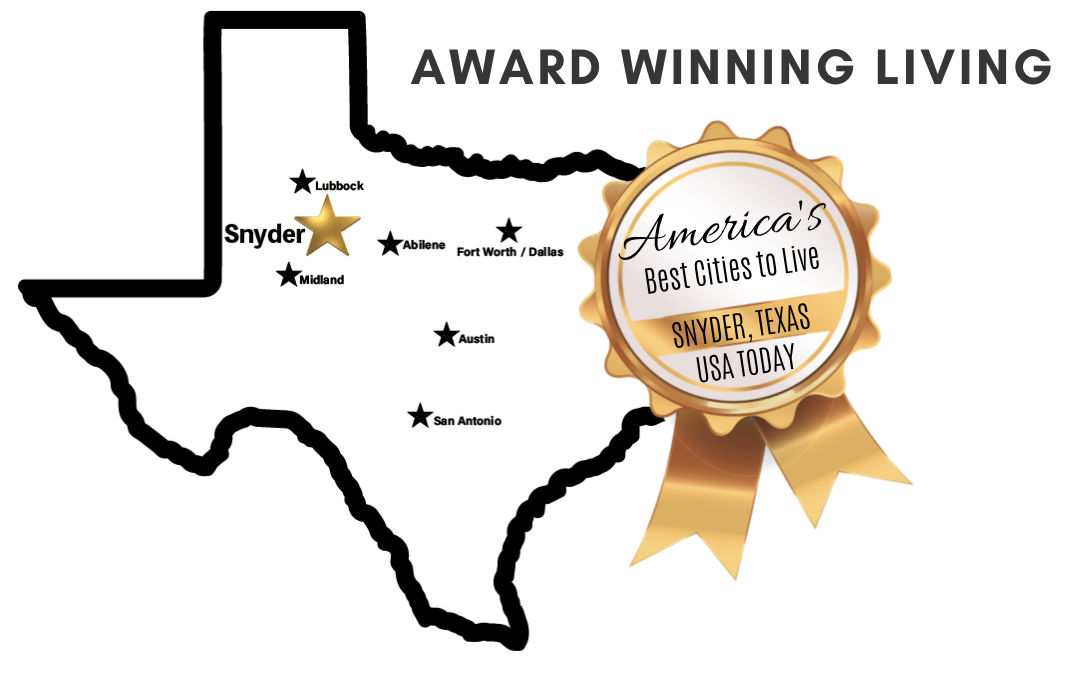 Restaurants, shopping, and what we don't have can be shipped right to your door.

About an hour to Lubbock, Abilene, or Midland and

3 1/2 hours to Fort Worth.

Beautiful city parks, running trails, and

pool with splash pad

Local hospital system and clinic

Community theatre & festivals

Hunting and fishing

West Texas sunsets
What's it like to Live in Snyder?
Wide open spaces provide wide opportunities. Snyder ISD a city with about 12,000 residents located in friendly West Texas.
This video will take you around town and in our schools to get a glimpse at life in Snyder, Texas. For more information on careers at Snyder ISD, let's connect! Call 325-574-8900, email hr@snyderisd.net.
A portion of the video content featured in this video was submitted by the Development Corporation of Snyder - thank you!
Resources for Former Employees